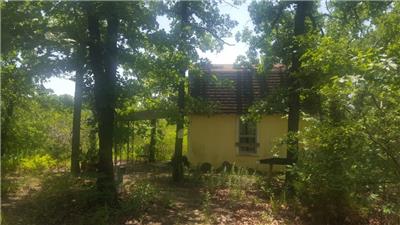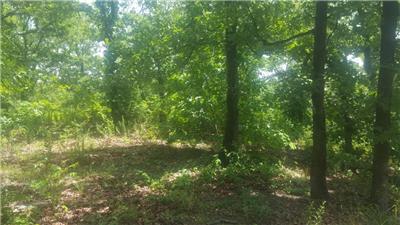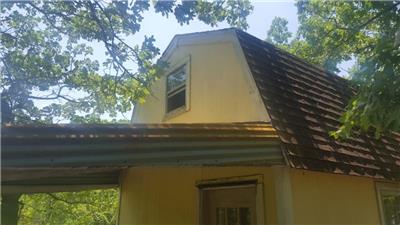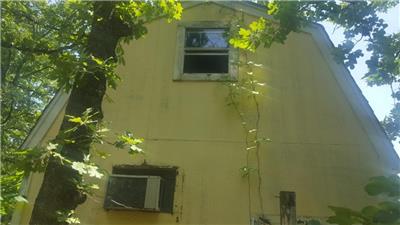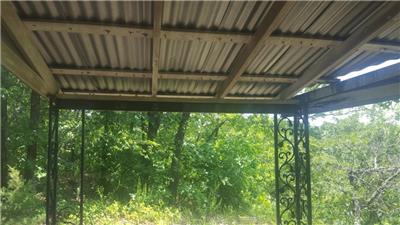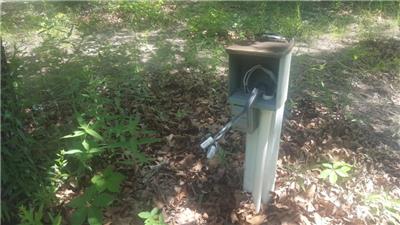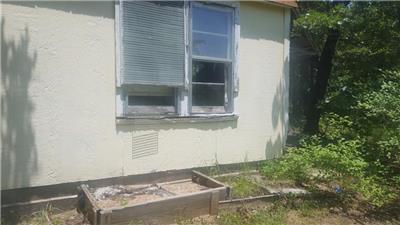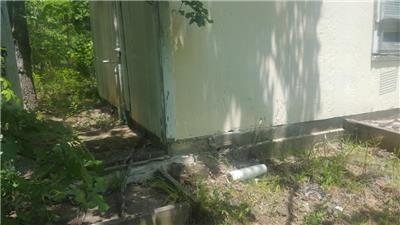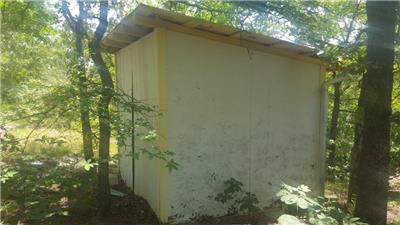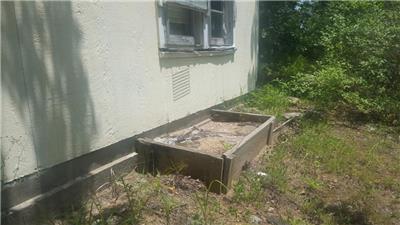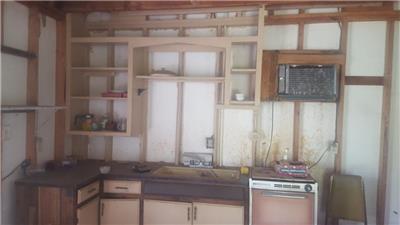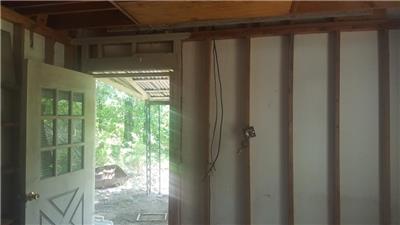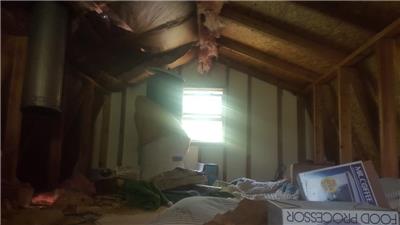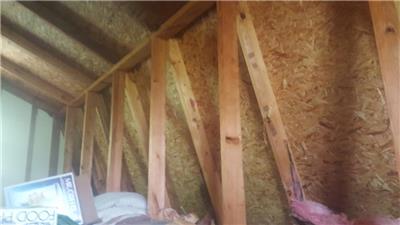 Click images to enlarge

If you are looking for your own little piece of the country - look no further!
Be sure to use the link "See full item description;  If you don't, you will be missing important information and details regarding this auction . . .
It's very near Lake Eufaula - what else do you need?  Just some time to so some fishing would be nice . . .  now you can be closer than ever, without spending a fortune, and find that time! 
 
Existing cabin is in need of some TLC but I believe it has potential.  It is setting on a concrete foundation and the most of the framing is solid.  The windows are probably the worst part and would need to be replaced.  Electric is on the property and part of the cabin has some electic setup already.  Also has a small storage shed.  Yep - it's all ready for you to arrive and get started with and new improvements!

Whatever your situation - here is the perfect opportunity to own what you have been looking for. There is a lot of potential with this property and someone with a little ambition make can good use of this property - are you one of them?

The property is being sold as is for recreational/residential use. Start your own adventures by taking advantage of this limited time opportunity! Why wait any longer? Do ya really think the prices are going down on real estate? Do you think it's a bad investment? If you need an investment vehicle that is tried and true – real estate is it!
PROPERTY SPECIFICS
Please review the following list of specific information related to this property:
Location - Near Porum, OK; McIntosh County 
Size - 1/2 Acre Appr
Map/Plat Reference - Ref #18024 Lots 13 & 14, Block 1 Oakwood Harbor #1
Terrain - Mostly Flat along Road; Back Portion of Lots Drops off to Ravine
Vegetation - Some brush & small Trees; Large Mature Trees 
Zoning - None; Rural County Location
Roads - Existing Road Frontage
Electric - Located on Property
Sewer - Septic May Be Needed for Full-Time Residence
Water - Public Water Station Available / Alternative Collection 
Phone - Not Certain / Cellular
Property Tax - Estimated $100 yearly
Association Fees - $100 Annually
Building Restrictions - No Deed Restrictions (Please See Conditions of Contract)


PRICE AND TERMS OF PURCHASE
 
The total price for this property is $18,250.  Owner financing is available with NO credit check and NO qualifying.  Depending on the winning bid, the term would be approximately 15yrs at 8.0% interest with $175.00 monthly payments beginning July 1, 2018.  You are buying this property under a Contract for Deed; I will transfer a deed anytime after principal balance is paid in full.  BUYER MAY PREPAY THE PRINCIPAL ANYTIME.  Buyer is responsible for all property taxes due after contract date (taxes are current). 
 
 
The Winning Bid
AND
The 1st Installment of $175.00 for July 1st, 2018
ARE BOTH DUE
within 3 days of auction end!



CONDITIONS OF CONTRACT FOR DEED
Recreational use of the property is allowed.  Motor-homes and campers are allowed for extended periods.  Temporary structures (such as a tent) are not allowed as a permanent residence.  The use of off-road vehicles and hunting are also allowed on rural parcels, but must be conducted safely and respectfully so as not to be a danger nor nuisance to others.

Residential use of the property is allowed.  All new construction must be at least 30 feet from property lines and existing roads.  Existing roads cannot be gated nor otherwise blocked.  Mobile homes shall be mounted on piers and include under-skirting. Unless approved by Seller in writing, only one permanent residence will be permitted on each parcel of land.  The property cannot be sub-divided and/or resold until the Contract For Deed is paid in full.

Traditional water, electric, and septic utilities are the Buyer(s) responsibility, but are not required before making improvements or building a permanent residence.  Alternative forms of energy generation, water collection, and waste treatment/disposal are acceptable provided they don't create odors, or unhealthy, or unsightly conditions.  However, Buyer(s) agrees to assume all responsibilities/costs for infractions to regulatory requirements associated with non-traditional utility services.

The accumulation of trash, rubbish, refuse, or garbage on the property is prohibited.  No unsightly conditions may be created.  No noxious or offensive activity shall be conducted upon property which may be or become an annoyance or nuisance to others.  Illegal activities are prohibited.

Not more than one derelict vehicle (a vehicle that is not running, not registered, and not insured) may be kept on the property.  Livestock and domestic pets are allowed provide they are not raised in such a manner or kept in such quantities as to create odors, unhealthy or unsightly conditions, or become a nuisance to others.

The cutting of trees with a diameter greater than twelve inches at ground level is only allowed for one of the following reasons: a) the tree is dead, b) it presents a hazard to existing utilities, c) removal is necessary for construction of a home and/or outbuildings, building access roads, or installations of new utilities.  Commercial logging or cutting firewood for resale is prohibited.


 LAND_DIRT_CHEAP - Exclusively on Ebay
We strive to provide affordable recreational property that can be enjoyed by outdoor enthusiasts of all kinds.  Whether you are an individual or a family looking for solitude or a peaceful get-away from the day-to-day, we will surely have a property that will satisfy that need.  Not to mention that you are buying real-estate - something that has historically appreciated in value!
 
If you are looking for property in Southeastern Oklahoma – You've Come to the Right Place!
 
More Acreage + More Locations = More Options For You.
 
 
FOR MAP INFO
LEAVE MESSAGE WITH YOUR EMAIL ADDRESS
800*278*8906
or
TEXT ME YOUR EMAIL ADDRESS
918*652*5822
 
BE SURE TO DESCRIBE PROPERTY OR PROVIDE AUCTION #
 
PLEASE CONTACT ME - ANYTIME TO ANSWER YOUR QUESTIONS!
 
Good luck and happy bidding!
 
NOT WHAT YOU ARE LOOKING FOR - PLEASE SEE MY OTHER LISTINGS

Bidders with zero or negative feed back must contact us first and receive approval to bid. We reserve the right to cancel all bids not approved or showing poor feedback and in the event the property is sold outside this auction. We reserve the right to sell the property outside of this auction. This listing is a binding real estate auction; As such, the buyer and the seller are expected to follow through on the transaction in good faith. Please do your due diligence before bidding and only bid if you are prepared to own this property. The property is being sold "as-is" with no warranties either expressed or implied.